Pink vs. "the stupid girls" and more...
* Pink's new
video
for "Stupid Girls" makes fun of all of those Hollywood celebs that need to get a swift roundhouse kick to their collective faces. The song's not really catchy, but it's a well made point nonetheless. It's like that the time when I bought the Dixie Chicks CD because they spoke out against Bush.
* An explaination for the prior post: this morning I came into work a little disappointed and frustrated and that post is what I had in me. After having the whole day to weigh my options and think about how I feel, I don't think I will give up. My fiancee pointed out that I still got a lot closer than 245 other people, so there's no reason to be discouraged. It's kind of like being a band on an independent label and waiting for the right major label exposure. It'll happen but only with determination. Like Corey Hart said, "Never surrender."
* Punknews
posted
about some indie labels/distributors going against Bust Buy's
$7.99 promotion
for other indie releases. Releases include: Panic! At the Disco, Dangerdoom, Bloc Party, Underoath, and Aiden, along with some scattered Matador titles.
Funny thing about those releases is that none of them are truly indie. Fueled By Ramen is distributed through the Universal Music Group, Epitaph and Vice are through Warners (soon to be EMI, by the way), Victory Records is distributed through RED (Sony), and Tooth and Nail is distributed through EMI (not to mention that the Nail has been "incorporated" for some time). Many of those releases would've eventually ended up at Best Buy, whether or not this sale would've happened.
So really, I think the only shady thing about the promotion is that Best Buy is marketing it as an indie/outside of the box sale since many of those bands have already received a ton of exposure through Pitchfork and MTV.
The kids who will go to Best Buy either a) don't have independent record stores where they live or b) just don't care, and the nature of the suburban youth usually weighs on the later. They just want to consume and that's what many of those indie/not-indie bands represent.
It reminds me of this interview I had with Nabil Ayers from Sonic Boom Records where he said that people will shop at Best Buy if they're looking for a Top 40 release, or need to be told what to buy, people will shop at indie stores if they want to converse and find people to relate to. There's a lot of validity in the idea that he never looked at chain stores as a competition because the people who will want to shop there will go there. Since the interview back in 2001, Sonic Boom has opened up two more stores in the Seattle area. Here's an image version of Nabil's feelings: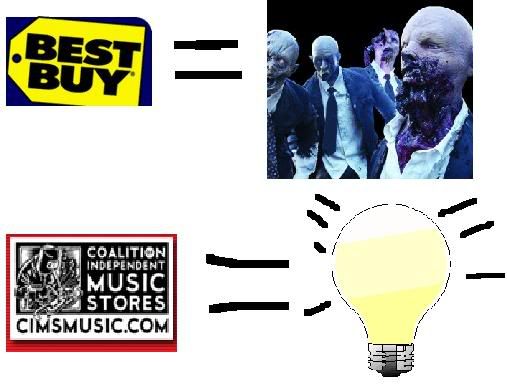 * And I give you the next big business in the dot com industry:
Huh.