mixtape o' the day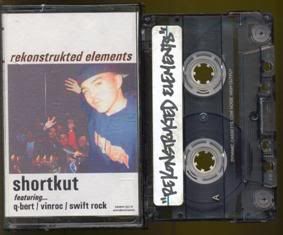 Shortkut
"Rekonstruckted Elements"
I think this originally came out in 1999 and I got it from the Stones Throw merch table at B-Boy Summit at UCLA. God, that was ages ago and I was still in high school. Sigh.
Anyway, on this tape, former Skratch Pikl and Beat Junkie, Shortkut, recreates hip-hop songs by using the original source vinyl and drum loops. There's also some awesome guest appearances by Swift Rock, Vin Roc and Q-Bert. Part of Shorkut's routine ("Listen to the Bass") from the 1998 US DMC Finals is also on this release.
This particular tape makes me long for the days when mixtapes were more than a marketing ploy, a tool for disses, and a source of fodder on MTV.com