tidbits 4/6/06
* mollie sue is the first one of my antm pics to get shown the boot. dammit! even though she's looking kinda 2004 coked-up hipster in the picture above, she's still le foxy. i do call bullshit on the fact that she got booted because of her lack of personality. since when did models have to have any personality? tyra's is some unique mishmash of oprah and gabrielle union's character from "bring it on," and kate moss and naomi campbell? well, let's just say that i don't see the mollie doing blow with m. shadows or punching out random assistants any time soon.
* vagrant signed the futureheads, an english/scottish band of some sort that has a member who's like my european doppleganger. guess which one looks like moa.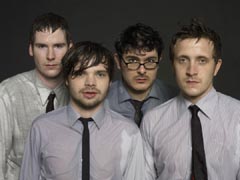 along with the hold steady and john ralston, vagrant is either signing these bands a year or two too late, or reinventing the vagrant tag altogether.
* byron crawford, who's been throwing one of hell of a
shit storm
over at xxlmag.com, has a bunch of a series of episode synopsis of past "real world" seasons.
check it
.
* and lastly, joel h, has a very rad
interview
with mr. tennessee himself, speech.
word to big bird.
[ps: in a bid of self-promotion, i have been added to the roation of DJs for "strictly business" sunday nights at the war room in seattle. free cover. all 90s/underground hip-hop. no top 40 shit]