the wack parade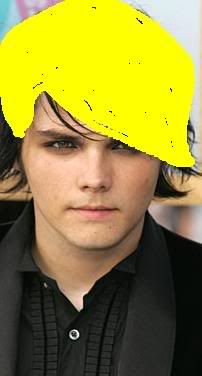 I love concept albums as much as the next guy. I can spout off ten concept records that are brilliant pieces of audio art; but sometimes, I think that there are bands who bite off more than they can chew (read: try too hard).
For example, over the weekend, the geniuses in My Chemical Romance unveiled a teaser for their new album, "The Black Parade," in which they shun the normal band handle, as well as hold a mock press conference to talk about their new band, or rather its reinvention (on a side note, singer Gerard Way also sports some rad golden locks).
Awe-fucking-some.
Is it so hard for a band to just record an album, release it, and play songs from it? Is it really necessary to dump a bunch of money into a promotional effort that may backfire? Do I have to remind My Chemical Romance about Garth Brooks' ill-advised
Chris Gaines fiasco
? I guess by doing this, Gerard Way and company feel that they're taking their band to the proverbial next level, but this is kinda (read: really) stupid.
It's not like David Bazan actually tried to kill his wife when Pedro the Lion's "Winners Never Quit" came out, or the guys in Coheed and Cambria tried to embark on whatever weird space adventure those records are about.
One of the great things about concept albums is that they challenge the artists and band to allow an idea to become this great narrative, wildly spun with metaphors and pop hooks; however, once fashion and hype enter the equation, I think that the concept gets bogged down and becomes a cheapened shell of its original vision.
[Related Links]
The Black Parade